Ho ho ho! Is that you, Santa? Might as well be. It's almost Christmas time again and we would like to inspire you to get your loved ones beautiful and meaningful presents this year, all at the same time: whenever you purchase our one of a kind wall art, photo calendars or postcard sets, Photocircle and its artists each donate to a humanitarian or development project somewhere in the world. Buy once, give twice.
To make it a bit easier for you not to postpone your Christmas shopping until the very last hours again, our early bird special saves you 15% on all our products till December 20th. Just use the voucher code JOLLY15 during checkout.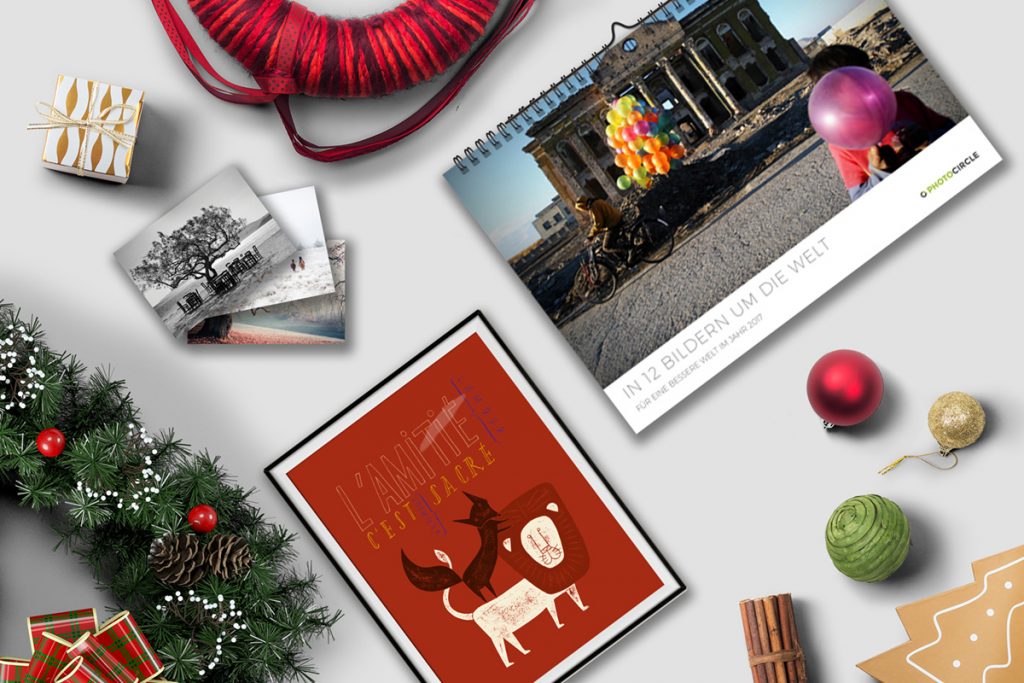 ---
For your grandson, niece and godchild
When the days get shorter, playtime outside shrinks to a bare minimum. That can, of course, only mean one thing: inside has to become more interesting. Simply turn the nursery into a world of adventures, a playtime paradise of circus and safari themes, with air planes and big scoops of ice cream on the walls…
---
For your friend, who can never remember which day you're meeting for dinner…
"Oh that was today?" No more! From next year onwards, our beautiful photo calendars will take care of that.
---
For retro maniacs and nostalgic grandmothers
Everything was better in the old days? We're not so sure. Our collection of pictures from the olden days, however, is quite the jaw dropper: the historical archive of SZ Photo makes you dream of the 1920s, 1930s and 1940s…
---
Hang in there!
Our picture frames by LUNA Designs from Cape Town, made from up-cycled wood waste by formerly unemployed people, make for the perfect framework for these vintage beauties: social and environmental sustainability, coupled with individuality, creativity and aesthetics.
By the way: we have maaany more of these jewels at our gallery in Berlin. Just drop us an email at change@photocircle.net and tell us all about your format, color and style requirements, and we'll send you pictures of what we think you might like.
---
For your loved ones abroad
My Bonnie is over the ocean… we think: there is nothing more beautiful than a handwritten message on a pretty card. And with our 21 postcard sets, you buy great art in a small format: The 8 postcards show pictures from our gallery and you'll receive them in a sleek black box and with an extra card explaining our concept.
---
Have fun browsing!
Yours sincerely,