Let's be honest – when is it ever allowed to do pretty much anything you like while recreating a particular interior trend? And how very likeable is a style that encourages us to break rules or to simply make our own? An interior style that invites us to throw everything we like together? The boho look lives from rejecting perfection – it is, after all, not for nothing that boho style is the legacy of the hippies. And "this doesn't fit", well that's simply not very fitting here, is ist.

The interior style as we know it today was originally inspired by some free spirits, who had decided on an unconventional life and spent a lot of time traveling. That's how all those patterns and objects from all over the world made into into their living rooms in the first place! Today, boho or hippie chic is expressly a mix-and-match look for all those who like their home full of color, culture and beautiful memories.
You can go big and really mix all imaginable patterns, colors and structures; but you can also work more subtly by adding just a few boho accents to your home and incorporating the style into a more minimalist environment. And should you proceed maximalistically according to the motto "more is more", you can, of course, always take something away again if it is too much in the end.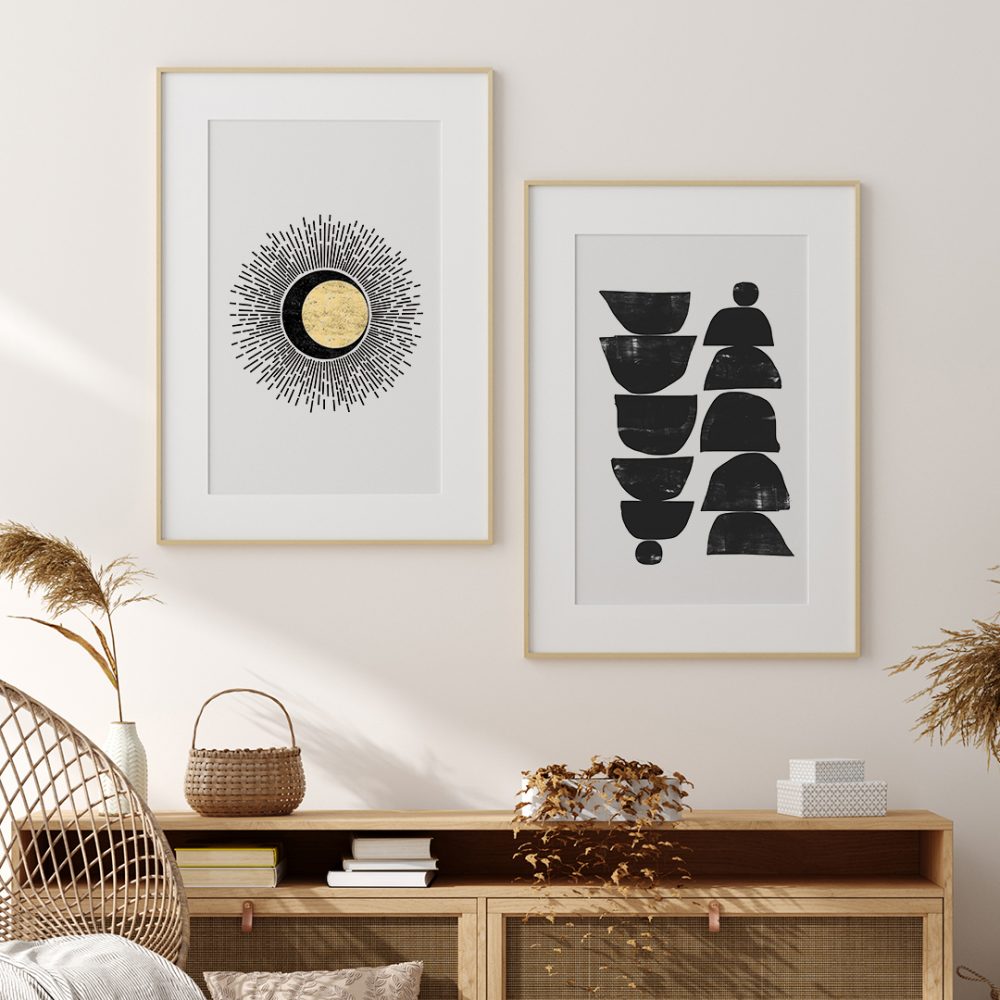 Where does the boho look come from?
Boho, you may have already guessed it, is short for "bohème" or "bohemian". And the bohemians were people – mostly intellectuals such as artists, musicians or writers – who wanted to deliberately differentiate themselves from the bourgeoisie (which was perceived as stuffy) through their way of life.
What they were looking for was a life full of authenticity and independence from social norms. Those free spirits were looking for a lifestyle that would feel more pristine and less alienated. And not just in the 1960s and 70s: the generation of hippies was, if you will, just another generation in the bohemian family tree after beatniks, hipsters and co. It borrowed much of its now famous lifestyle from those 19th and early 20th century movements. Self-discovery and self-realization, rebellion against the establishment, living for creativity, cheerfulness and cultural criticism – none of that was new when the flower children came on the scene.
For the Hippies, however, it was already easier to explore as many foreign countries and cultures as possible, and of course that had to be done without slipping into tourist clichés. The attempt was made to get closer to the way of life of the respective locals, as authentically as possible, and in in doing so, the Bohemians naturally also came into contact with everyday objects, which they finally brought home as souvenirs.
Kilims from Anatolia were then spread out on the herringbone floor together with Persian rugs, dreamcatchers came on the wall above the French bed, the Central European windfall was now presented in ceramics from Mexico and incense sticks from India would improve the air in the loft.
When we speak of boho chic, or boho look, today (be it in fashion or interior design), we mean a style that has developed from the 1990s onwards based on the style of the hippies (60s and 70s), which in turn has developed based on the "OG Bohème". Got it?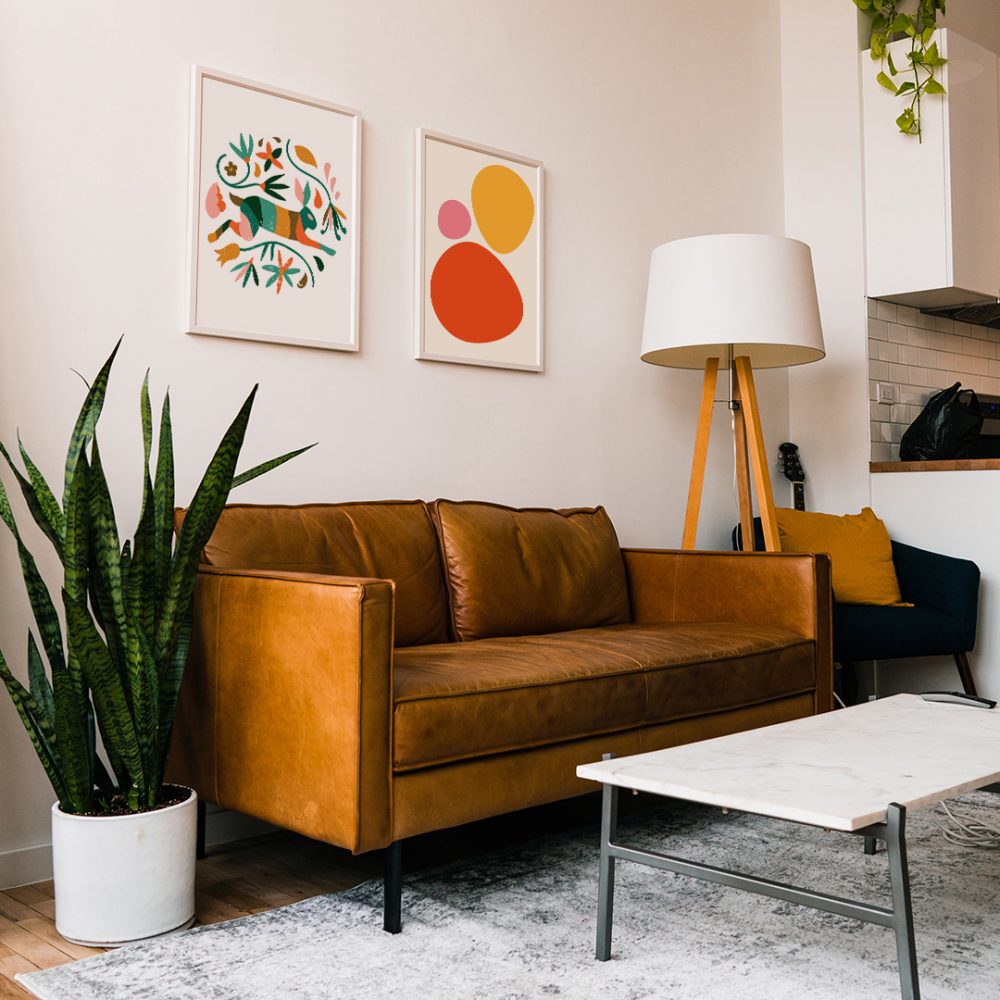 How do you style the Boho Chic?
We've already established that there are basically no rules – but of course we do not want to withhold some of the reference points that you can observe in order to put your boho apartment in the limelight.
Boho chic is relaxed, highly individual, cozy and imperfect. That means first and foremost: your boho room thrives on family heirlooms, DIY and travel souvenirs. Just show everything that you love and that defines you – this of course also applies to your art pieces: For example, combine a quote or motto that reveals something about you with a photo of a loved one and an illustration of a place that is close to your heart.
Moreover, you can't go wrong with natural materials like wood, woven fabrics, rattan or linen, fur and leather.
Warm or earthy colors such as brown, green and gray tones are ideal as basic colors; these are then further complemented and accentuated with pink, purple, blue and orange, for example.
The light should come from as many different sources as possible, but above all: not just from the ceiling. Candles, grandma's old floor lamp, fairy lights – anything goes.
Plants! And preferably a lot of them. They not only add life to a room, plants also improve the quality of air. By the way, cacti are particularly popular in the boho trend – and if you don't have a green thumb at all, not to worry: we've got you covered.
The same goes for flowers, of course. Flower power prints can hardly be wrong when it comes to hippie chic, right? Add a colorful bouquet in a handmade vase and you're golden.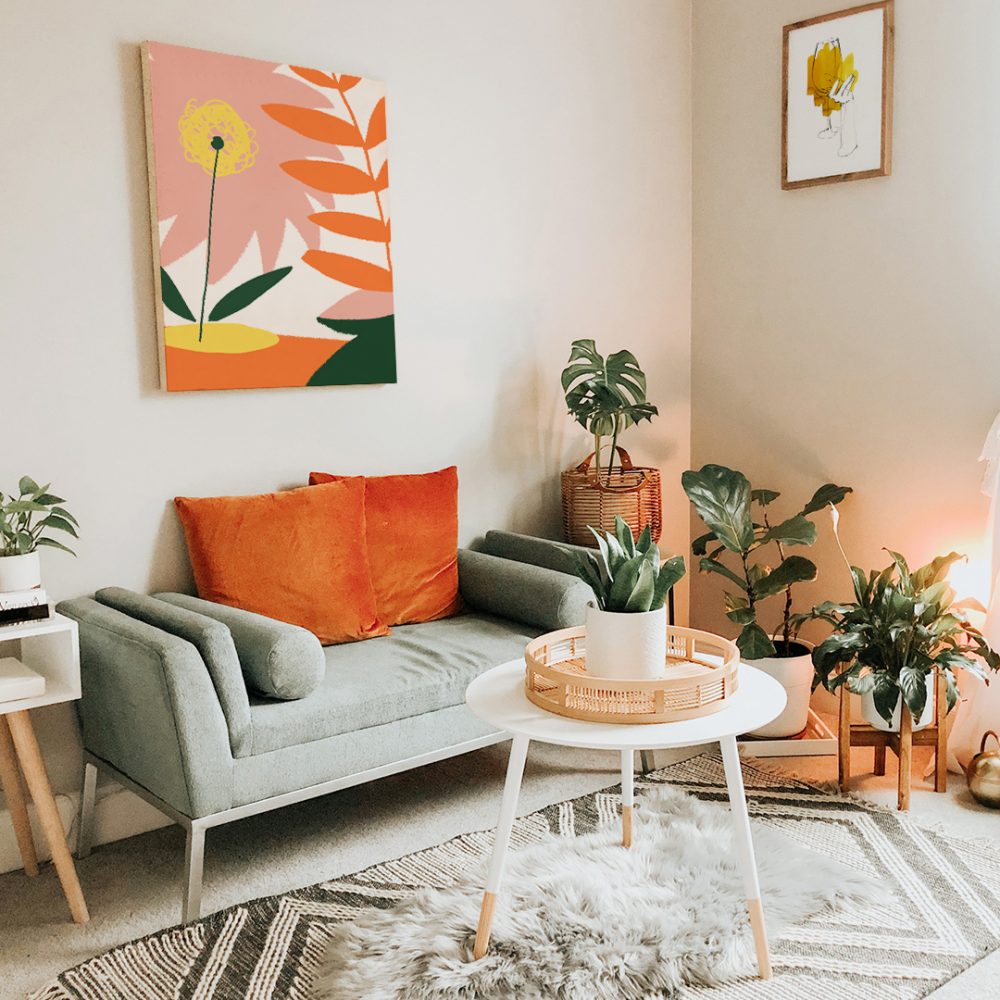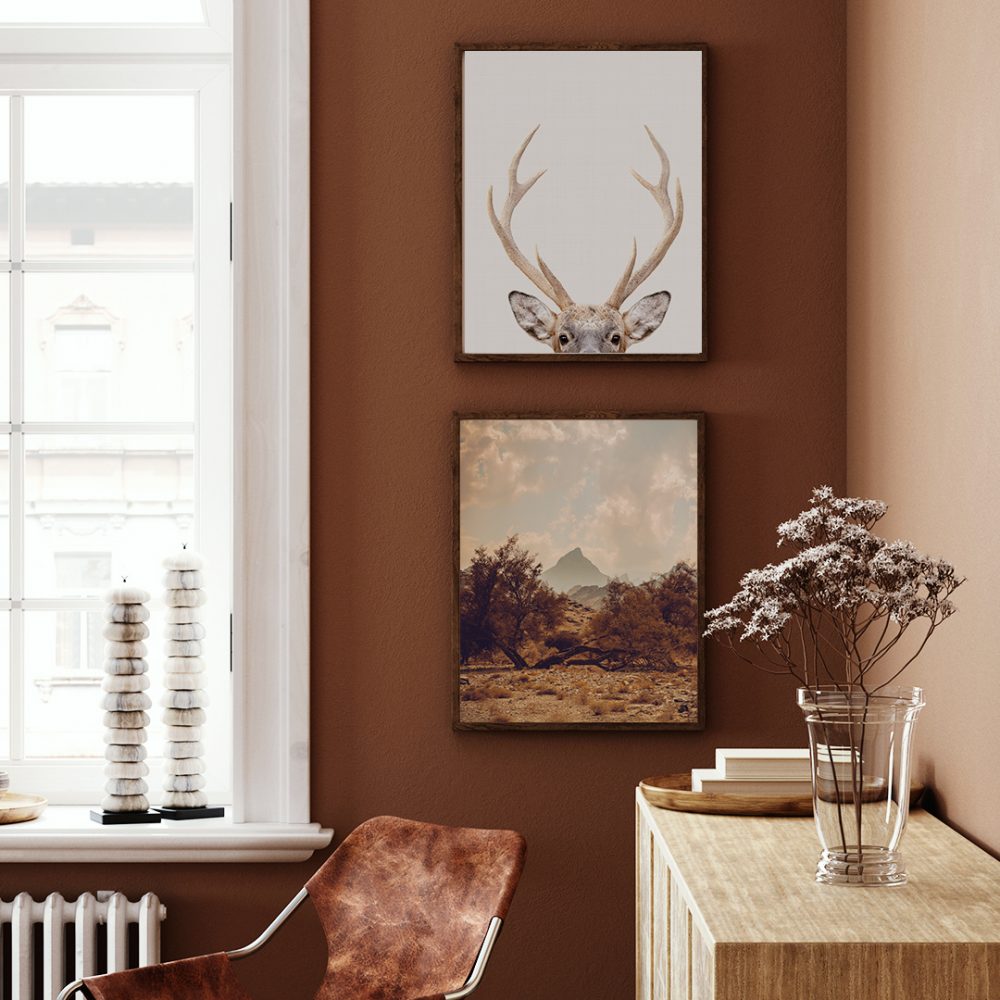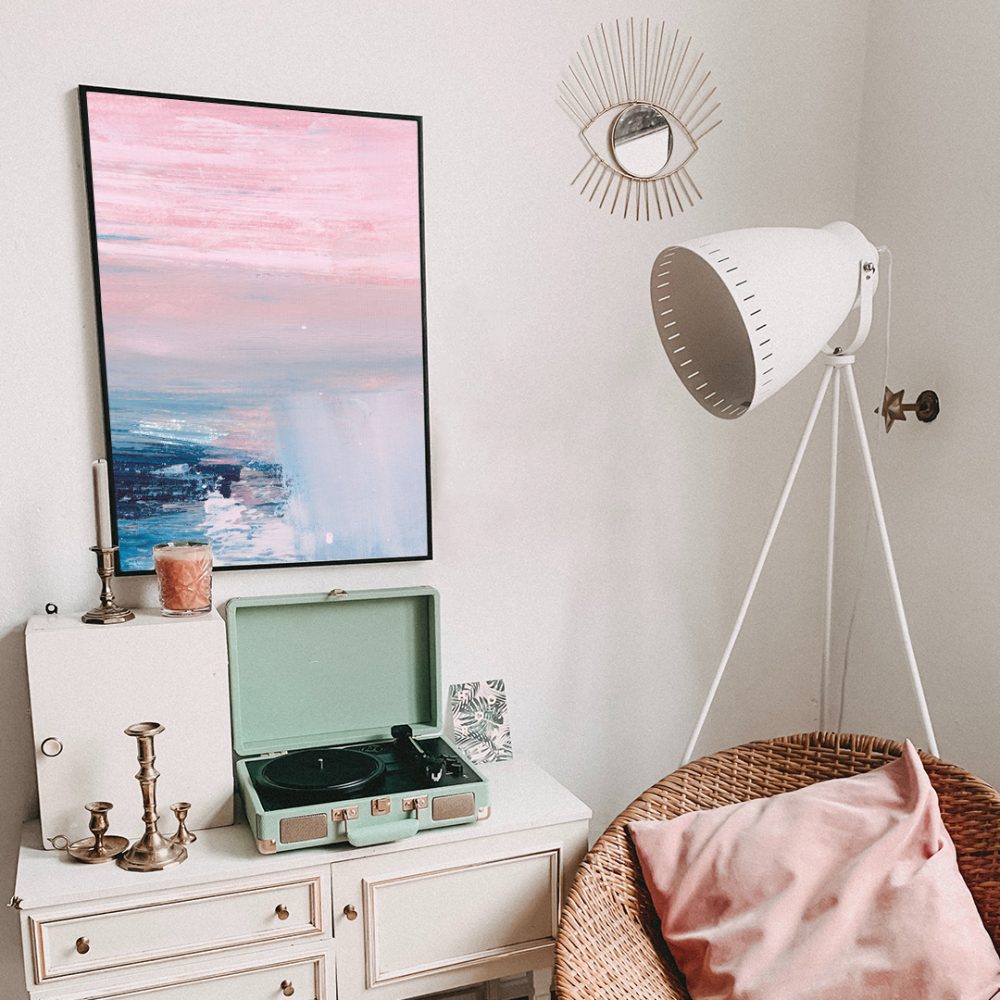 Katrin Strohmaier spends her days as a mouthpiece for Photocircle with a penchant for development, interior design and human rights. From there, she spreads the good news that you can make the world a little better simply by buying art.